Kelly Schott
Contemporary Modern Stylistic
San Diego, CA. – United States
Make a Connection
Work with me!
Kelly on The Web
Search
Justified Hype
Kelly's Profile
Stylized paintings and sculptures inspired by nature
Kelly Schott is an artist who works in a contemporary modern stylistic manner, who has been working as a metal sculptor. A native San Diegan, she draws inspiration from her surroundings, manifested in the nature, sea and wildlife themes brought to life in her paintings, sketches and sculptures. Kelly is an explorer and adventurer, from hiking to traveling to working toward becoming an FAA certified pilot! But her favorite thing to explore is new mediums in her art – drawing, painting, writing, sewing, building, welding. Kelly is adept at handling tools, "a modern day Renaissance woman." 
In addition to being an artist, explorer, and adventurer – Kelly is a nurturer and caretaker. Her four animals are all rescues: a miniature Pinscher, named Taco; a Chijuajua-Terrier mix, appropriately named for the lord of the underworld, Hades; Cake a silver Tabby cat; and finally a Tuxedo, Maximillian. When not taking care of her pets, Kelly is taking care of her garden – digging in the dirt, watering and talking to her plants. But Kelly doesn't take too much time off from being creative, "I start to feel it on an emotional level – I call it 'letting my crazy out.'"
Kelly's nurturing side comes from her close-knit family. Her mother has saved all of her poetry since she was four years old – a collection she is currently working on publishing. Her sister, four and a half years her elder, is also an artist and a writer and one of her first inspirations. 
Kelly holds a Bachelor of Science in Media Arts and Animation, and went on to pursue studies in Holistic Health & Massage Therapy. But it is her love for exploring art, style and the world that makes her sculptures larger than life.
Kelly's long term goal is to create large scale public art projects in cities across the U.S. to fuel her love for travel. The one place she has a soft spot for: Oregon – the culture, the weather, the greenery, the accessible lifestyle, and the holistic approach to life in general – all make it Kelly's someday place to be. For now, she's creating art out of her home studio in San Diego.
Kelly's Passion Project Turns to the Plastic Arts
A Flaming LED Lit Tentacled Mixed Media and Metal Sculpture
Kelly's most recent explorations have been large scale three-dimensional sculptures such as her 2019 Burning Man project, Ursula. A 20 foot long head-to-tentacle octopus made up of stainless steel, brass, acrylic and stained glass, Ursula will have flame effects in the form of Moroccan lanterns set on fire above her when she is complete. Underneath, she will have suckers made of programmable LEDs where Burners will be treated to a lightshow. 
Ursula's body is decorated with seaweed filigree detail, a delicate and ornate contrast to the hardware of her body to mimic the velvety touch of an octopus, Kelly's personal play on textures. Her admiration for the super-smart resourceful octopus comes through unequivocally in this piece and others before it – from previous paintings, sculptures, and even paper mache, "they may or may not be my spirit animal."
Media Gallery
Kelly's stylized approach within the Contemporary genre provides a singular identity
Creations and Collaborations
Kelly is use to being first, including first to grace the cover of Justified Hype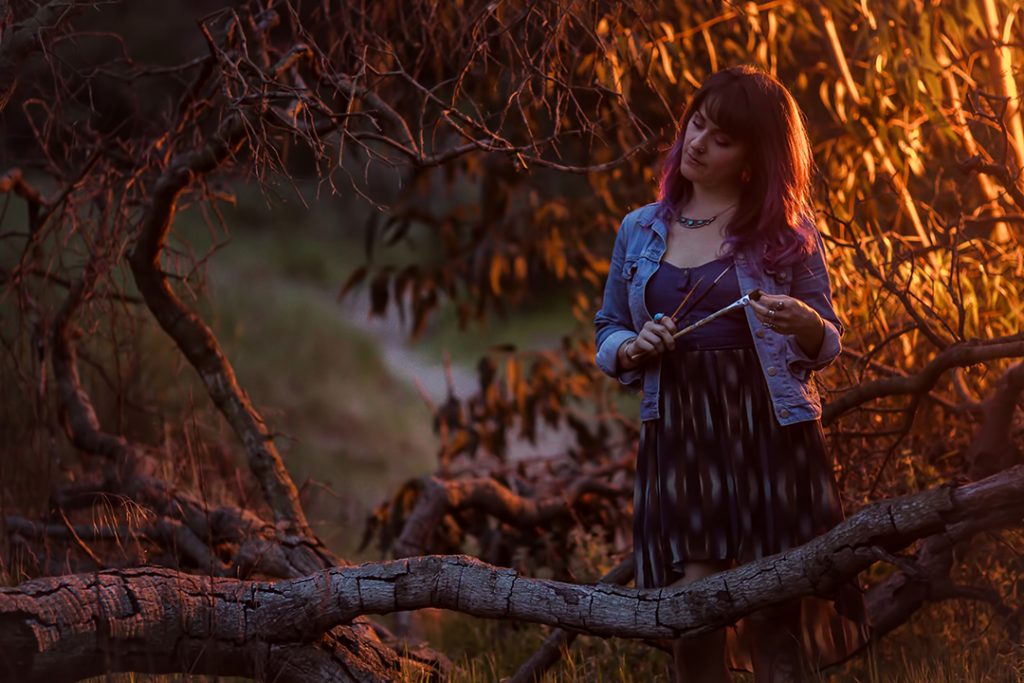 Kelly Schott x Bradford Kadow
Mixed media artist Kelly Schott is a hard gal to shoot… Photographer Bradford Kadow had to chase Kelly around for a while, while Kelly was adventuring in China.